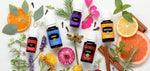 Young Living Products
Young Living brand is by a company based in Lehi, Utah that sells essential oils and other related products.
Essential oils have been used for thousands of years in various cultures for medicinal and health purposes.
Essential oil uses range from aromatherapy, household cleaning products, personal beauty care and natural medicine treatments.