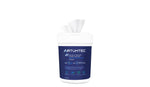 AirTumTec Products
What is AirTumTec?
AirTumTec is a revolutionary long-lasting self-disinfecting technology. Very much different from conventional disinfectants that last for minutes before evaporating, this state-of-the-art technology provides up to 180 days of non-stop antimicrobial protection against coronaviruses, HFMD, Stomach Flu, E-Coli, Salmonella and many more. It is also the First and Only surface coating to be listed by the Singapore National Environmental Agency (NEA) as a Class A coating that has passed ASTM D4060 durability testing.
With AirTumTec's groundbreaking durability, certified efficacy against a wide spectrum of pathogens and conformance to international safety standards, AirTumTec is used on many renowed commercial and government bodies such as Prime Minister's Office (PMO), Singapore Airlines, All Singapore Public Buses, Singapore Police Force vehicles, Chanel, Singtel, major shopping malls, schools and offices.
Throughout the years, AirTumTec has been featured by Channel News Asia and various news media multiple times. AirTumTec has also received numerous testimonials and accolades, as a truly effective barrier against pathogens; protecting lives, businesses and families from the never-ending impact of viruses and bacteria.