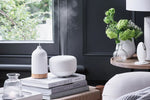 Aromatherapy Diffusers
Diffuse your favorite essential oils with these beautiful diffusers.
Choose your essential oils from our collections FS Apothecary and Young Living. 


Banish stress and refresh your spaces with our exclusive collection of essential oil diffusers. Convenient and cost-saving, our diffusers combine highly innovative technology with pure aromatic integrity.
Simply add a few drops of pure essential oil or an oil blend to a
diffuser
and soak in the natural fragrance circulating in the air. The continuous mist of the
oil diffuser
will have your favorite essential oil scent wafting throughout your home all throughout the day. An oil diffuser is a simple way to add aromatherapy to your everyday life, while helping to lower your stress levels. Our collection of sleek unique designs make it easy to add an essential oil diffuser to any room. Match the color or style of your aromatherapy diffuser to any space with our variety of styles or even take it on the go with our essential oil diffusers specifically made for the car. Whether you prefer a floral fragrance like Lavender and Jasmine or an energizing scent like Peppermint or Eucalyptus, an aroma 
oil diffuser
will bring your aromatherapy dreams to fruition.